In response to a statement made by North Korean leader Kim Jong-un that he "always has a nuclear button" on the table in his office, U.S. president Donal Trump tweeted that he has a "bigger and more powerful" button, and that it works.
North Korean Leader Kim Jong Un just stated that the "Nuclear Button is on his desk at all times." Will someone from his depleted and food starved regime please inform him that I too have a Nuclear Button, but it is a much bigger & more powerful one than his, and my Button works!

— Donald J. Trump (@realDonaldTrump) January 3, 2018
One can't help think that Trump is 1) talking about the baby carrot between his legs, and 2) saying Kim Jong-un can't get it up.
Seriously, because that is not how you discuss nuclear weapons. And even though that tweet — taken as a whole — could easily be read as a threat of nuclear war, we all know Trump probably won't remove it.
His tweeting aides have probably given up trying to explain that you can't be president and tweet like a 17-year-old boy who's worried why he hasn't hit puberty yet. Think I'm exaggerating? This isn't even the first time Trump has referenced his genitals before.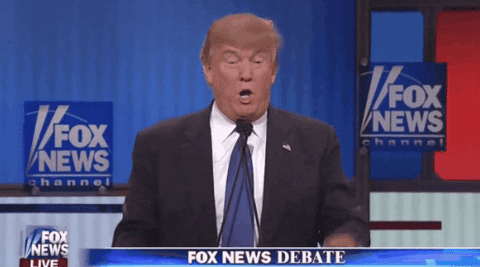 Twitter isn't even removing Trump's tweet, despite its threatening tone. The president has exhibited aggressive, bigoted, and threatening behaviour on Twitter before, including his retweets of the known fascist group Britain First.
However, Twitter said that it would leave his posts online so that people could "see every side of an issue". Apparently, the factually wrong and completely racist side of an issue is very important to Twitter. It also said that it believes "there is a legitimate public interest in [the] availability" of those posts, an argument it has used repeatedly in keeping up Trump's tweets.
At least we know who's responsible for when our world ends because of a bruised ego and other…shortcomings.