The very first recorded interstellar object — an object which is not bound to any star's gravity — was spotted by Robert Weryk in Hawai'i in October, and ever since we've been captivated by the possibilities of what 'Oumuamua is. No doubt the most popular theory has been that it's some kind of alien spaceship.
So far, however, the analyses made by astronomers with the Breakthrough Listen initiative have turned up zero evidence of extraterrestrial life. It has found that the asteroid is covered in some kind of carbonaceous crust, and that it could be covering an icy core. Slow down, "ice" isn't just water when it comes to space. Ice can be dust too.
Interestingly though, scientists found that the building blocks of life could actually emerge in the vacuum of space, particularly when icy films are exposed to cosmic rays and other radiation, which sparks chemical reactions, the precursor to biological life.
With information like this, it's hard not to let your mind wander. Due to the possible icy core as well as the unique, tubular shape of the asteroid, many enthused readers have turned into that guy from the History Channel.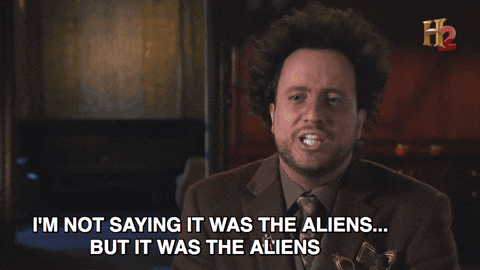 I don't even blame them. I want it to be aliens too (so long as they're not dicks). And that's why I love reading all the theories and commentaries on the cigar-shaped mystery. Here are some of the highlights.
One twitter user mentioned the main problem — aliens just aren't interested in us:
The audacity of humans looking for alien life while we are a total clown show. It's like turning up to a wedding butt naked. #oumuamua

— Musa Okwonga (@Okwonga) December 15, 2017
Wishful thinking:
They already know what Oumuamua is (need we spell it out?). It's a controlled release of info in order to ensure disclosure is done in a proper and safe manner.

Asteroids do not zip into a solar system, perform an orbital slingshot, then leave. https://t.co/HuFHS4ZRkA

— VictoryOfTheLight (@KibBitzLaw) December 19, 2017
Star Trek did it first:
Hmm…maybe time to rewatch #StarTrek IV: The Voyage Home. Is the mysterious 'Oumuamua an alien probe? https://t.co/zFEX6Deljf #Oumuamua pic.twitter.com/nB7GOFVolv

— Allan M. Carter (@allanmcarter) December 17, 2017
Another Twitter user decided to combine the most recent astronomical sightings into a big crossover event of alien invasions:
First #Kepler90 then #Oumuamua scans then #PENTAGON and now they are here we really did alot to piss them off It's been the craziest week for ufo enthusiasts or is it some kinda portal opening #aliens @nasa #UFOs #MerryChristmas #space #nasa #alienspaceship #lights pic.twitter.com/PzL8mpAhym

— paramjeet singh (@beingparamjeet) December 23, 2017
Other users took a more sciency approach to the comet:
If #Oumuamua had been on a collision course with Earth, we would have had no warning. It had already passed us when it was first detected on 18 Oct. The impact would have been on 15 Oct with a yield of ~30 megatons of TNT and a 100% fatality rate within a ~50 mile area.

— Tim Acheson (@timacheson) December 23, 2017
Why does 1I/ʻOumuamua vary in brightness & colour on uneven timescales? Our model: it is tumbling, & has a redder spot@wtfastro, P. Pravec, @FitzsimmonsAlan, @pedrolacerda, @astrokiwi, @colinsnodgrass, @pseudotrabanthttps://t.co/IH6atFWiVB pic.twitter.com/ZBTkDDPSjb

— Michele Bannister (@astrokiwi) December 1, 2017
If you say so, Nick:
If #Oumuamua is a drifting alien spacecraft, as some scientists theorized, maybe our scans have activated something – if the ship wasn't derelict, as speculated, but just dormant; I'm assuming some naughty METI scientist 'pinged' it! #seti #UFOhttps://t.co/iBGDPY4nNY

— Nick Pope (@nickpopemod) December 20, 2017
"Oh look! There's sentient life there––wait a minute, that's not right. That's not right at all. Quick! Fly you fools!":
My money still on 'Oumuamua = alien spaceship that noped the eff out after studying us. Mostly kidding. Mostly.

— Sarah Hörst (@PlanetDr) November 21, 2017